Hello Everyone Today, I Will be sharing the Top 5 Business Ideas to earn money online; as in our previous articles, we already shared with you about the best ways to make money online. We are sharing a few new ways to earn money online for students, and it's not stuck with just students. It's for everyone.
"As usual before we started just let me ask you some question which can answer below"
Are you the one who is searching for business ideas to make a financially stable life?
Here I give the list. Why don't you pick up your favorite from that?
I hope you have been aware of the term " Earn while sleep," and these ideas will make you earn while you sleep.
So let's give a try!!!
Business Ideas to Earn Money Online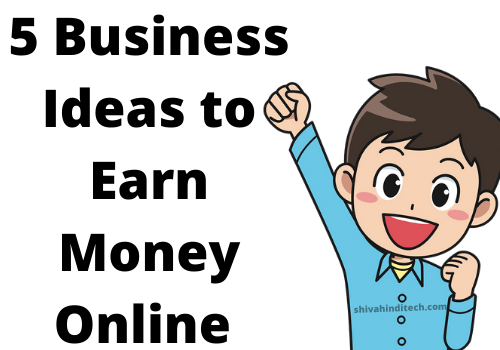 Starting a new business is simple, but most people think it needs a lot of investment, but that's not true .Even you can start a business with 0$. One thing you need to succeed in any business is "Networking."
Self Published Author
Do I need to have any skills to be a published author?
I can hear this kind of question from you. And my answer is No!! If you know how to write, that's enough. You can publish an ebook on any topic like farming, money hacks, public speaking, or anything you are good at. I prefer self-publishing to network and build a relationship with the customers . You no need to be an expert in writing; practice writing and research skills to earn an expert.
Blogging
Blogging is something special for me from all others. Getting started is easy, but earning takes three months to a year, but once you started earning, your account will be flooded with dollars.
How to monetize your blog?
Build an online community,
Sell Ads,
Content marketing
Sell digital items,
Affiliate marketing etc.
Also Read Few More Ways To Earn Money Online:
Earn money from Pinterest:
Before getting started, let me clear you one thing Pinterest is a search engine. It's not social media. So you can use it as a tool for marketing your business, and you can earn $50,$100, or even $200 per day with Pinterest. All you need to do is to Pin and create a Pinterest board.
Steps to on $10,000 on Pinterest:
Start a free blog
Write quality and interesting content
Set your Pinterest business account
Start creating Pinterest boards and start to pin
Join in the group's letter to your niche.
Podcasting:
Podcasting is the best way to share your thoughts through audio on a specific topic like health, Education, Business, etc. You can find those discussions on Spotify and some on their own hosted websites. It is the best way to inspire your audience through daily dosage.
Social Media Manager:
Do you love to work with Social media?
Are you the one who is spending most of your time tweeting, and posting on Instagram and Facebook? Then, why don't you start your career as a Social Media Manager?
This is one of the trusted business ideas, and you can earn a lot through this if you put your heart to work on it. Companies will pay you to manage their social media accounts to boost engagement and promote their brand.
Don't excuse me! If you don't have money to start a business, remember one thing, You are your actual investment.
if you like our work you can join us on our social handles
Facebook, Instagram, YouTube, Pinterest
So now, if you like 5 Business Ideas to Earn Money Online, then don't forget to share this with your friends and keep tuned with us for more updates and keep sharing.