So one of the most asked questions How to fix the Google Ad Serving Limit On Adsense in 2021, so here I will be going to tell you my personal experience which helps me a lot to remove the limit.
You always thinking, why do we receive google ads limit? or you must be thinking is ads limit is good or bad for us?
So let's start the discussion about the same, why, and how Fix Google Adsense Limit in 2021? and how to save your account from the same.
So before I tell you how to fix the google ads serving limit, just let me tell you why you receive that first.
Why Google Give Us Adsense Serving Limit?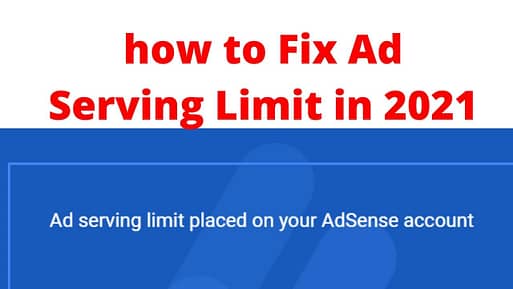 So basically there are many factor matters, which I am going to share with you.
Sometimes you didn't get visitors to your website and you started to share your website on social media, and you received traffic from social media but you don't have organic traffic so you will get the Ads Serving Limit and that will annoying.
If you just got approval in your AdSense account, and you are checking your website several times a day, then you will also get the ads limit because google also pays for Impression. 
Some of the beginners open their website and click themselves which make will put your website on the Ads Serving limit.
If you received too many clicks from the same IP then it will be going to spoil your Adsense account.
Direct Traffic is also not good if you don't have organic traffic for your Google Adsense account.
Paid Traffic is also the reason for ads limit or account disable.
As Google also shares that if you do have invalid traffic then your account can be in problem and you can get Ads serving limit.
Most of the new beginners even not aware of the invalid traffic what exactly is invalid traffic.
What is Invalid Traffic?

As per Google if you buy traffic from anywhere then it will be counted as invalid traffic.
If someone is directly coming to your website and doing the clicking on your ads then it will create a problem.
What are the Major Factors for Ads Serving Limit?
Self Impression:- If you are opening your website in the same location, and same IP address then it will be Self Impression.
Paid Traffic:- Most people use Facebook ads to get traffic because they got the traffic at a very cheap price and that traffic will also going help you to reach on Adsense Limit. (Facebook, Pinterest, etc)
Too many clicks from the same IP:- If someone clicks on your website ads then it will create an issue, and your AdSense account will be in trouble.
Direct Traffic:- If you are sharing or telling people to open your website then it can also cause the same.
Very low amount of Organic Traffic:- always try to get as much as organic traffic you can get, try to go for at least 85% of organic traffic, and the rest can be social, referral & direct traffic.
Bot Traffic:- This is one of the most pathetic things which beginners wanted to try, but I just say that don't ever try this because if you try this you will be going to lose your account without fail.
So these are the major reasons for the ad limit on the Google Adsense account.
As above I have already shared with you about what is the major factor for Google Ads serving limit.
How To Protect Your Google Adsense Account?
So if you want to prevent your account then never open your website while ads are running but we all know it's not possible, so you can do one thing you can use adblocker, and that will help you out in this.
Don't go for paid traffic always try to go for Organic traffic, because organic traffic will boost your website. And Paid traffic can harm your website very badly. To learn about SEO and then try to drive organic traffic.
In the beginning, you don't have that much traffic so always use auto-ads, the reason why is because you will get fewer clicks and google will manage auto-ads automatically, which will help you to protect your account.
If you are growing then you will be having some hatter so what you can do you can install a WordPress plugin (ACIP), and that plugin will prevent you from several clicks from the same IP.
Direct traffic is also not good if you don't have organic traffic, So don't share your website with anyone till the time you don't get traffic. Just Write high-quality content then you will be getting organic traffic.
Nowadays most people are selling traffic which can be the worst thing for your website because they are sending you bot traffic which will down your website rank and put a bad impact on your website and also disable your Adsense account. So never try bot traffic on your website.
Now you must be thinking how can I prevent my website from bot traffic, so no need to worry just use Cloudflare and they will do all the things for your website.
How to Fix Ads Limit? Or How to Remove Google Ads Serving Limit?
As above I already shared with you the reason for the google ads serving limit, now I will be sharing how to fix the google ads limit in 2021.
If you got an AdSense serving limit then it's not a big deal, so what do you need to do first?
Just check the issue first why did you get this, did you do anything which I mentioned above?
Example –
Did you buy Traffic from a bot?
Did You Try to use Facebook ads?
But if you didn't do anything wrong, then they will check your website again and fix the issue within 30 Days. And just keep writing the article on daily basis and try to get more organic traffic that will increase your website trust in front of google.
But if you did some mistakes like you buy traffic from Facebook or any social platform, then no need to worry I will be going to tell you what to do next.
So you just need to remove all ad code from the website and then remove code from your AdSense account as well. Just try not to get any page views in your Adsense account. And just wait for 1 week and your ads serving limit notification will be removed.
But just wait don't place ads instantly, hold for a while once you are getting organic traffic then just place auto ads. and don't check your website for at least one week.
If you need to do a few more things just click on the below link and just fill out the form and write the things mentioned below.
Hello

Team Google

I respect Adsense policies and follow them well. I saw your mail today Then I did a complete study about my website, so I came to know that this traffic is one of my Haters who do not want me to grow my website, He has sent TrafficBots to my website. Now after all this, I have installed some more safety plugins on my website like Ad Invalid clicker and also I've registered my website in Cloudflare.

In the future, This type of activity will not be on my website. My only request to you is to remove the ad limit from my website as soon as possible.

Again, such activity will never happen on my website. I promise you this…
Just write these things and submit your form. And wait for a few days.
You can also use Ezoic to prevent your ads account to get an ads limit and it will increase your website income.
Are Google Ads Serving Limit Good Or Bad?
So most people think that it's one of the worst things to get Ads limit, but it's a good thing. You must be thinking why I am saying this because, when ads limit options were not there they used to disable the account and you can't withdrawal the amount. And that is one of the most annoying things which will demotivate you. So as per my views, it's good to Ads limit.
Conclusion
So If you are doing everything properly then you will not get any ad limit, but if you try to get paid traffic then you will get a limit. So work properly and don't worry about anything. If you follow all the instructions properly then you will be getting your account fully working within a few days.
FAQ Google Adsense Limit in 2021
Q – Why does Google Give Us an Ads Serving Limit?
A – If you are getting invalid traffic or paid traffic then you will be getting Ads Serving Limit?
Q – How Long does Google Keep Ads Limit?
A – Till the time they monitor your traffic is organic and genuine.
Q – Will my account be disabled if the Ads Limit Comes?
A – Yes it can be if it comes again and again.
Q – How to prevent Ads Serving Account From Ban?
A – Just remove all ad units from a website and remove all units from the AdSense page.
If this was helpful for you then don't forget to share it with your friend and keep tuned for more details.