How to Choose Best Web Hosting Provider In India – This is one of the most asked questions, and beginners never knew these things. They get trapped in the worst hosting, which is not good for their blogging carrier, but no need to worry here. I will be going to share with you a few things to know before buying hosting in India.
Best Web Hosting Provider In India
So as we all know, hosting is the backbone of your website, and you should buy the best hosting, and nowadays hosting is quite cheap and best, and below I will be sharing the top 7 tips to choose the best web hosting provider in India.
Also Read:- Web Hosting Kya होती है । Types of hosting
Hosting Provider Selection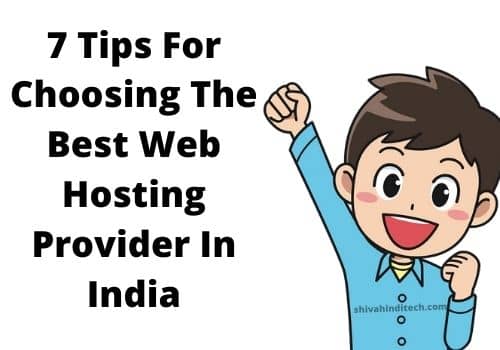 So this is one of the most difficult tasks for beginners, and they are quite confused and wanted to know how to select the right hosting provider, so no need to worry here I will explain to you everything that you should check before buying hosting in India or anywhere in the world.
1 Uptime
This is one of the most important things about any hosting company whether it's hostinger, GoDaddy, Bluehost, siteground, or any hosting worldwide, and the uptime should be 99.3% at least, or if it's more than that, then it's great, your first step is done. You can proceed ahead with the second option.
2 Support
Support is one of the most important things in the hosting part, and we all should focus while we are going for any hosting provider. If they pay you attention in your quires, you are ready to go, and they also provide you the solution that also matters.
3 Server Location
Now, most people ignore this, but it can be compromised, but yes, if you go for any hosting, check whether they are available in your country or not; if they are available, then choose according to your budget; if they are not available in your location, then it will take few milliseconds to load your websites that's all, if the server is in your country it will load little fast.
4 Bandwidth & Traffic
So let me tell you that bandwidth is also called Data Transfer, which means the number (amount) of bytes that have been downloaded from the site to the visitor. However, some hosting provider claims that's its unlimited bandwidth, but it's not unlimited.
5 Data Backup
This is one of the most important things you should understand before buying any hosting; a lot of time, anyone hacker can attack your website, which causes a loss of data. So backing up is the most important part.
6 Price & Billing Cycle
Now come to the last point, and it's the price and the billing cycle; whenever you go for any hosting provider, and you quite doubt about the hosting then go for 1 month of the 3-month plan is initial days, and if you like the service then extent the plan, in India we also consider the price so that also an essential factor for all of us.
7 Review
This is also the most important factor, and you should check the review, and you can easily find them on YouTube & search, don't trust only one review; at least check for a few, then make your own decision.
if you like our work you can join us on our social handles
Facebook, Instagram, YouTube, Pinterest
So these are all 6 tips for choosing a web hosting provider in India; if you like this, don't forget to share with your friends and keep tuned with us for more updates.