Today, I will reveal my personal method for twitter unlimited traffic for free. As we all know we don't use Twitter much for traffic, but actually twitter today I am going to give a trick that will blow your mind.  And you will start work on Twitter from today for traffic.
So, what happens if I say you don't need to find a topic?
No Page SEO
No, off-Page SEO
No Need of Backlinks
You must be thinking about what we should write then. So, no need to worry, Twitter will give you topics as well and traffic as well. And you don't need to write a 1000 or 3000 words article. You just need to write an article of around 300 – 400 words.
Read the article carefully and if you didn't understand the article no issue just check out the video below.
Massive Traffic from Twitter for Free
So, I believe you know the basics of Twitter and already have an account on Twitter.
Just log in to your account and go to the explore section.
Now select Trending Section

Now you have to find out the topic according to your website and if you have a news website, then you can go for every topic. And cover that topic.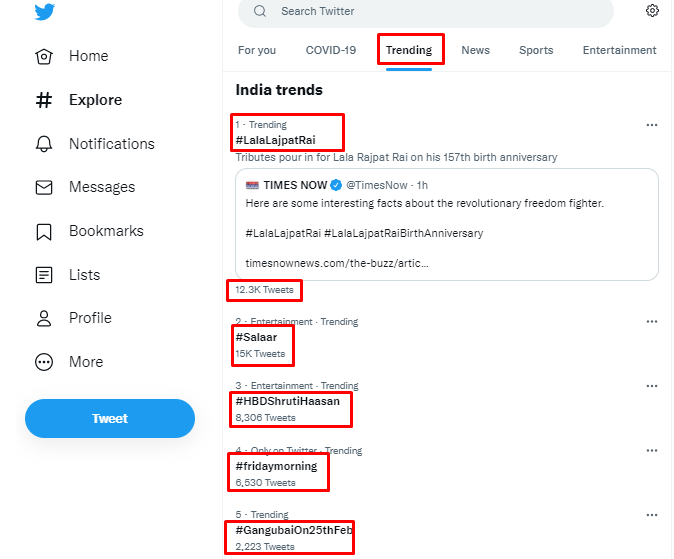 So, it's showing you the exact trending things on Twitter from your country. But if you wanted to change the location, then select the setting icon on top.

Once you click on the setting button, then you will get explore settings. Untick Show content in this location; now, you can select the location from the bottom.
Now you can see the Twitter search in other countries as well. So know what to do once you found the topic location.
How to write an article for Massive traffic from Twitter?
Now just do one thing, click on write article about 300 to 400 words and don't forget to add #hastag from the Twitter search. And once your article did, then post it properly as mentioned below the image.
For example – traffic is my trending tweet
Post format should be
Your title – How to get massive traffic from Twitter

Your website URL – https://shivahinditech.com/massive-traffic-from-twitter

Hashtag – #traffic #howtoincreasetraffic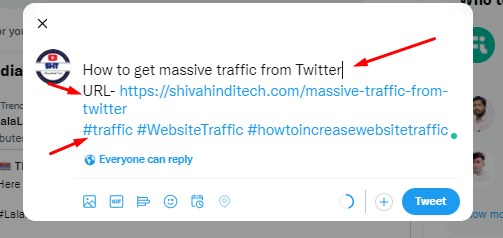 So just follow these things, and you will go to get instant traffic from Twitter without any issue. And all people will be targeted, so your bounce rate will be good.
FAQ
How to Post Articles on Twitter?
If you want to post your website article then the format should be your Website Title, URL & Hashtag.
How do I increase traffic to my Twitter account?
So, always focus on what people are searching for and what best you can provide them from others. And keep consistency in your tweets. And follow trending sections.
How do you increase followers on Twitter?
Just focus on the trending or news section because you will get a free audience from them. If you post tweets according to the trending & news section, you will easily earn a good number of followers on your Twitter page.
Is Twitter Worth it when it comes to getting free traffic to a website?
Yes, Twitter is a wonderful website if you want to get instant traffic to your website, but most people don't know how to generate traffic from Twitter.
How do I Massively Free Traffic with Twitter?
If you want massive traffic, just work on the trending section and news on Twitter.
Also Read:- How to Get massive traffic from Quora
How to Get Traffic From Twitter Step-By-Step Guide Video
So if you like this article, then don't forget to share it with your friends and keep tuned with us for more updates.